Jefferson High School

Demo's Recipe Corner
Some of you have shown an interest in having a recipe sharing page, so, here it is. All you need to do is to email your recipe to me at john@jh2design.com and I'll take care of posting it for you. Pictures/photos are always welcome and I will take care of all the resizing, cropping, etc., as well. Photos in 'jpg' format are easier for me to work with but will deal with whatever I receive.
Hope you visit this page often and become a contributor.
I'll start with a variation of one of my favorites as I love crock pot cooking.
Also, if you try any of the posted recipes, please share your comments and I will post them at the end of each recipe.
Ken's Original Stuffed Green Peppers for 6 Qt CP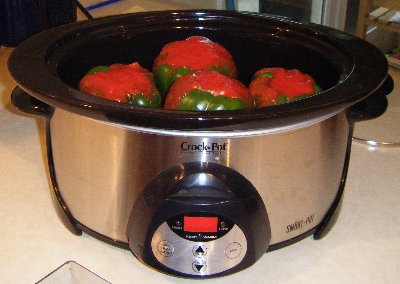 4 green bell peppers, large, whole and emptied
1 lb ground beef, not browned. S&P to taste.
1 onion, medium, finely chopped
1/2 cup celery chopped - apx
1 teaspoon Worcestershire sauce
1/2 cup long-grain rice
3 8 oz cans tomato juice (1 for mixing with the beef and 2 for CP liquid)
1/2 can beef broth
1. Combine beef, onion, celery, w.sauce, s&p, rice, etc, along with 1 8 oz can of tomato sauce.
2. Stuff each pepper anywhere from 1/2 to 3/4 full, to allow for expansion while cooking.
3. Place stuff pepper into CP and add broth around, not over, the peppers.
4. Cook on low 6-8 hrs, depending on your CP
5. Check from time to time and add more tomato sauce. You'll be glad you did.
Here's a really fun variation that I stole from Diners, Drive-ins and Dives!
Stuffed Green Pepper Soup for 6 Qt CP
I saw on DD&D and it is awesome!!!!
2 lbs ground beef, browned
1 quart beef broth (can always add more later)
1 28 oz can diced tomatoes or split 1/2 and 1/2 with Rotel, for a little spicey
1 28 oz can tomato sauce
2 cups long-grain rice (1/2 cup uncooked) I prefer to cook separately and add later.
2 cups green bell pepper -- chopped. Apx 2 large peppers, 3 cups would be better.
2 Tbsp brown sugar (optional) I don't
2 teaspons salt
1 teaspoon pepper
1/2 medium onion chopped (optional) Actually, I use a whole onion.
1/2 cup celery chopped (optional) Actually I use about 3 ribs.
1 teaspoon worcestershire sauce (optional) I don't.
I like to also season with celery seed!
1. Toss everything into CP and cook on low 4-6 hrs, depending on your CP
2. I prefer to cook rice separately, then add (to taste) towards the end.
Here's a seasonal one submitted by Joanne (Haase) Slocum and Hubby, Pete. Thanks, Joanne.
Curried Pumpkin Soup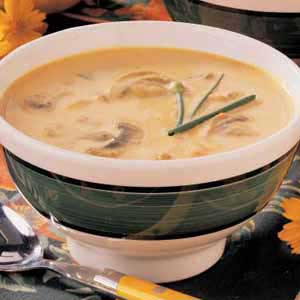 2 Tbsp butter (or margarine)
1/2 – 1 pound sliced fresh mushrooms
1 cup chopped onion
2 large cloves garlic, minced
2 Tbsp all-purpose flour
1 tsp curry powder (or more if you're brave)
3 cups chicken or vegetable broth (for thicker soup, use 2 1/2 cups)
1 15 oz. can solid pack pumpkin
1 12 oz. can evaporated milk (or equivalent of half and half)
1 Tbsp honey
1/2 tsp salt
1/4 tsp pepper
1/4 tsp ground nutmeg
In a large saucepan, melt butter and saute the mushrooms, onions and garlic until tender.
Stir in the flour and curry powder. Gradually add the broth. Bring to a boil, cook and stir for
2 minutes or until it beings to thicken. Add the pumpkin, honey, milk, salt, pepper and nutmeg;
heat through. Garnish individual servings with chives or chopped green onions and shredded
cheddar cheese. Yields 7 servings. This is a delicious fall soup.
Here's a fun and seasonal one from Helen Miller. Thanks, Helen
Ken, being the super cook that you are - I am sure you will try this.
Every time I have served it for guests, they get such a kick out of scooping
their dinner out of a pumpkin.
Trust me - it is REALLY good & a creative way to serve dinner.
Helen
PUMPKIN DINNER
10" pumpkin, whole
- cut off top & clean out insides
- rub inside of pumpkin with 2 T melted butter mixed with 2 tsp ground ginger
- rub outside of pumpkin with salad oil
- put top back on pumpkin & bake 30 minutes at 375 degrees
Brown 2 lbs sausage & 1 lb lean ground beef (drain off fat)
1/2 cup celery (chopped)
1 medium onion (chopped)
4 cups seasoned croutons
1 cup walnuts (chopped)
1 cup brown sugar
2 T melted butter
2 T orange juice
Mix meat & other ingredients together. Place mixture inside pumpkin & bake 90 minutes at 375 degrees
** Put pumpkin on table & serve directly out of pumpkin, scooping out some of the
cooked pumpkin from the sides with each scoop of meat mixture.
Like Cajun? Here an interesting one from Carole Clark and her hubby, Paul. (Just so you know, they actually live in Louisiana!!)
OK, I've been promising to do this. If anyone has a Cajun recipe they'd like, let me know and I'LL send the real McCajun not some NY wanna be. Carole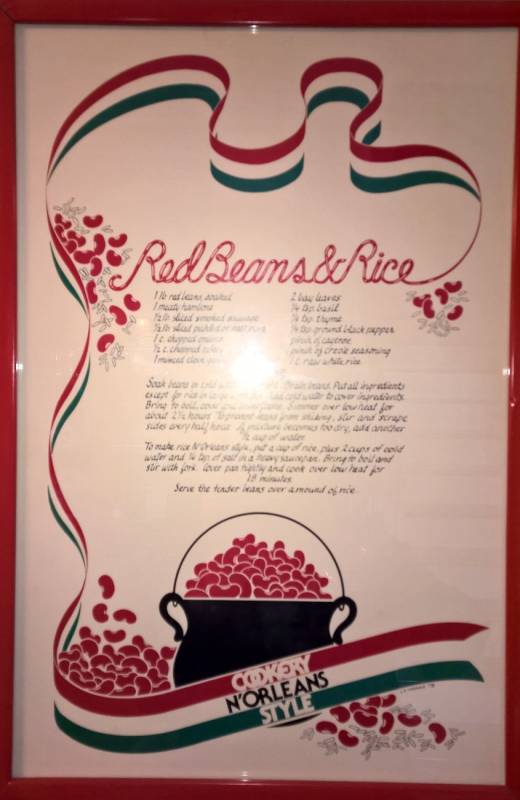 RED BEANS AND RICE
1 lb red beans, soaked
1 meaty hambone
½ lb sliced smoked sausage (andouille is best, but if you can't find Cajun sausage use a really good kielbasa) When we were summering in Tigard I found Cajun Sausage at Wal-Mart by the airport, yes I was desperate, decided to bring my own after first year.
½ lb sliced salt pork
1 c. chopped onions
½ c. chopped celery
1 minced clove garlic
2 bay leaves
¼ tsp basil
¼ tsp thyme
¼ tsp ground black pepper
Cayenne, pinch
Creole Seasoning, I prefer Tony Chachere's
1 c raw white rice
Soak beans in cold water overnight. Drain beans. Put all ingredients except for rice in large stock pot. Add cold water to just cover ingredients, Bring to boil, cover and lower flame. Simmer over low heat for about 2-1/2 hours. To prevent beans from sticking, stir and scrape sides every half hour. If mixture becomes too dry, add water or my preference, white wine as needed. PS This is VERY old recipe, before everyone started using crock pot, I'm sure you could do it that way too, except for rice.
RICE Louisiana style. Put 2cups of COLD water in pot with rice and salt; bring to a boil (lid on)..turn to low and let cook 18-20 minutes or until fork tender. I use gas range so if using electric be careful with heat to much will burn rice.
Serve beans (taste for seasoning FIRST) and place rice on top—DO NOT MIX ALTOGETHER! Bon Appetite.
Mary's Ranch Dressing Chicken Thighs for Two
I make it for two people so it can be added to for more guests
4 boneless skinless chicken thighs
Bacon crumbles (from Costco)
Ranch dressing in a bottle
Shredded cheddar cheese (or your choice)
In a nonstick 8x8 pan squirt a small amount of the dressing.
Arrange the chicken thighs so the thickest portion is pointing outward.
Squeeze more Ranch dressing on top of the chicken.
Sprinkle bacon crumbles on top of the thighs (as much as you want but a little goes a long way)
Top with as much shredded cheese as you wish. (less is best)
Cook for 30 minutes in a 350° oven.
Variations:
I have put frozen veggies or tater tots under the chicken before cooking but you need to add more time as the frozen food needs time to cook. I cooked it for 45 min when adding the frozen items. The chicken is better the next day. Yum Yum Yum.
Mary. My question. Do you cook covered, uncovered, foil? (Ken)
LARRY'S LIME MARINATED PORK TENDERLOIN
Ingredients:
2, 1 Lb Pork Tenderloins, washed and patted dry
2 tablespoons lime zest plus the juice of 4 limes, at least ½ cup
6 minced garlic cloves, more if you really like garlic
4 tablespoons honey
2 teaspoons fish sauce
1 ½ teaspoons salt
1 teaspoon black pepper
1 cup vegetable oil (safflower or sunflower is best)
6 (or so) teaspoons of mayo
4 tablespoons fresh cilantro, chopped pretty fine.
PREPARATION
Trim the tenderloins then place them on solid surface and make them into large steaks by carefully flattening them to 1/2-3/4 of an inch thick using a meat mallet. Covering with a layer of food film like Saran Wrap before pounding helps a great deal. Then cut them straight across the grain, which runs legthwise, every 4 to 6 inches to make 3 or 4 steaks per tenderloin.
Whisk lime juice and zest, garlic, honey, fish sauce, salt, pepper together in a large bowl. Then slowly drizzle the vegetable oil into the lime mixture, whisking constantly until smooth and slightly thickened. That is the marinade.
Reserve about half of the marinade, or maybe a little less, for pouring sauce. Then put the steaks in the bowl, toss them thouroughly in the marinade, and put them in a large plastic zip-lock bag. Add the rest of the marinade to the bag, work the air out and seal the bag. Let the steaks marinate for about 4 hours in the refrigerator.
COOKING
On a grill: Put the steaks on the grill directly out of the marinade. Cook hot, 4-5 minutes per side, and then set over to the cool side of the grill until the internal temperature is at least 145 degrees.
In a skillet: Cook medium high, again until internal temperature is above 145, usually 4-5 minutes per side. This is a little trickier, because the marinade left on the pork will require pouring off 2 or 3 times during the cooking process.
TO SERVE
Whisk the mayo and the cilantro into the reserved marinade just before serving - it softens and sweetens the acidity of the lime and makes a remarkably good sauce to pour over the meat and rice, which makes an excellent side dish.
When the steaks come off the fire, place them on a cutting board, tent aluminum foil over them and let them rest for 5 minutes. Then cut them into 1/2 to 3/4 inch strips, again across the grain, just as you cut them before cooking.
Pour some of the sauce over the meet and place the rest on the table in a gravy boat for everyone to season their meal as desired.
Enjoy!