Jefferson High School

Terri Carlson's 2016 SE Asia Trp
Hi Ken, I am sending you some information with photos that you asked me for. You can edit etc. however you wish. Terri Carlson Milliren
VIETNAM / CAMBODIA ADVENTURE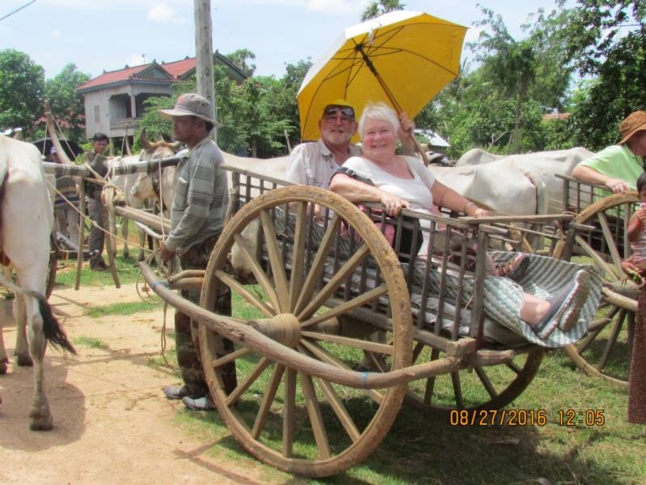 A friend and I left Portland for Hanoi on 8/15/2016 – arrived in Hanoi on 8/17/2016. It had been arranged for us to have 'upon entry' Visa's for our stay in Vietnam. A young man met us as we exited our flight and took us to a waiting area to have all our information documented, then sent us through customs. After that exit we were met by another man who transferred us to our hotel. He promptly gave us each a pretty silk fan. This is not the ideal time to visit Vietnam or Cambodia as it is very warm and very humid – but the price was right! The fan was put to good use for the rest of the trip.
We spent 3 days in Hanoi. On the 1st day we stayed near the Red River, visited a beautiful temple, opera house and took an extended cyclo ride (think rickshaw) through Hanoi's Old Quarter. Very exciting – beside the immense amount of traffic – many, many motor scooters, cars, buses, trucks, etc – the cycle drivers do not worry about signal lights turning red – they just proceed on. After the ride, had lunch at a popular Pho restaurant. Much different than the US version. Really good! Lunch was followed by a visit to a traditional house in the Old Quarter and a walking tour of the street markets selling their produce, fish, frogs, chicken etc. Glad I can just go to a grocery store!
The following day we were to go to Halong Bay for an overnight cruise on a large junk. Very disappointing – we were met by a typhoon. Plans changed – We were taken to a farming village where we literally got soaked. Went to a farmer's home (they couldn't farm because of the typhoon) and that was followed by a nun who gave us a tour and the history of an extremely old Catholic church built by the French. – After returning to Hanoi stayed at the Metropole Hotel (which is the equivalent of Raffles in Singapore). It was built in 1901, has housed Charlie Chaplin and other personalities like Jane Fonda and Joan Baez during the Vietnam war and Bill Clinton more recently. It is very elegant and we were given an excursion of the property including the bomb shelter. It was certainly interesting to hear the North Vietnamese view of the war.
On our last day there we visited the Hanoi Hilton (prison), and again the opinions from the North are a little different than what our perspective was.
We flew to Saigon (called Ho Chi Minh City by the government – but not by the people there). Saigon is booming. Trying to be another Hong Kong. Did all the tour stuff, saw the Reunification Palace, Notre Dame, markets, the old post office which is near where the last evacuations took place at the end of the war. During our 3 days there we did take a Vietnamese cooking class – that was too much fun! Now I'm a great cook!!
After leaving Saigon we embarked on a Mekong River cruise. We spent 7 days exploring both Vietnam and Cambodia. We saw many villages where they not only farmed, but made numerous products which included candies, rice wrappers, rattan, and silver. I did take an oxcart ride through one village. Other tour places included the Cambodian Palace, a huge Buddhist temple - where we not only helped feed the monks, but were blessed by them with jasmine flowers. Also visited were Elementary schools– the elementary schools have a morning class and an afternoon class because there are not enough teachers at this time. Educators were eliminated during the Pot Pohl regime. One of the most interesting "villages" was on the Ton Le river where 100,000's of people all live on houseboats. The homes, the schools, the basketball courts, temples, etc. are all on the water. I did get a chuckle from the one floating building that was a pigpen. We stayed overnight in Phnom Penh and did visit the "Killing Fields" and the infamous S21 detention center. It is unbelievable that someone can treat human life so despicably. While in Phnom Penh, shopped in the huge Central Market which is their answer to a shopping mall.
At the end of the lovely cruise we flew to Siem Reap, Cambodia which is the location of Angor Wat. Many would know the location from the Angelina Jolie movie Tomb Raider – it was filmed at Ta Prohm, one of the temples that had gigantic tree roots wound around it. Angor Wat is a World Heritage site and has over 1,000 temples in the Angor area. We only had 2 days here. One evening we did an elephant ride to the top of a mountain nearby to overlook the site. Think I can scratch elephant ride off my to do list now.
We arrived back home on September 1 completely exhausted and trying to comprehend all the sights, sounds, and smells of what we had experienced. It was quite the adventure!
The following are just some random pics .. none in any particular order.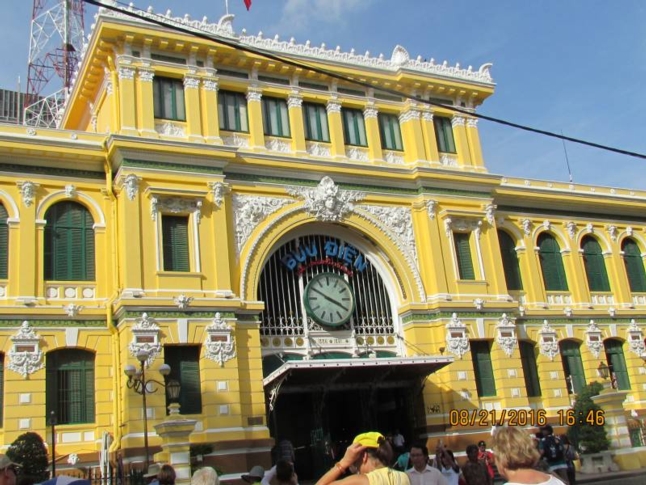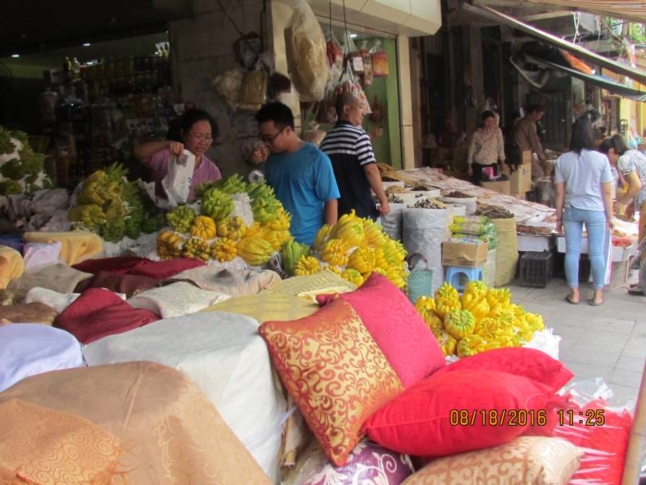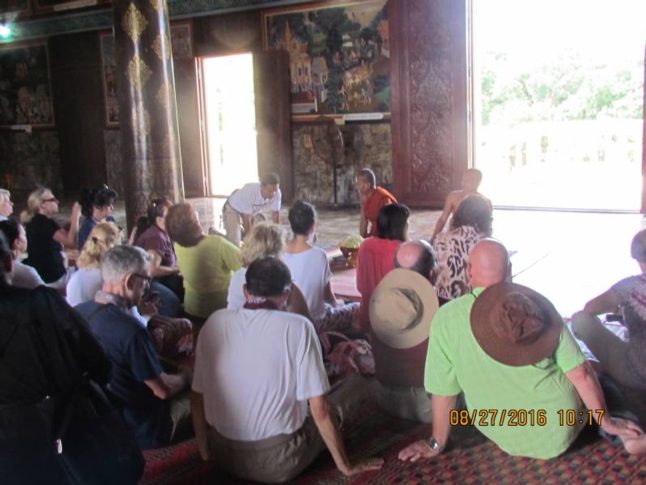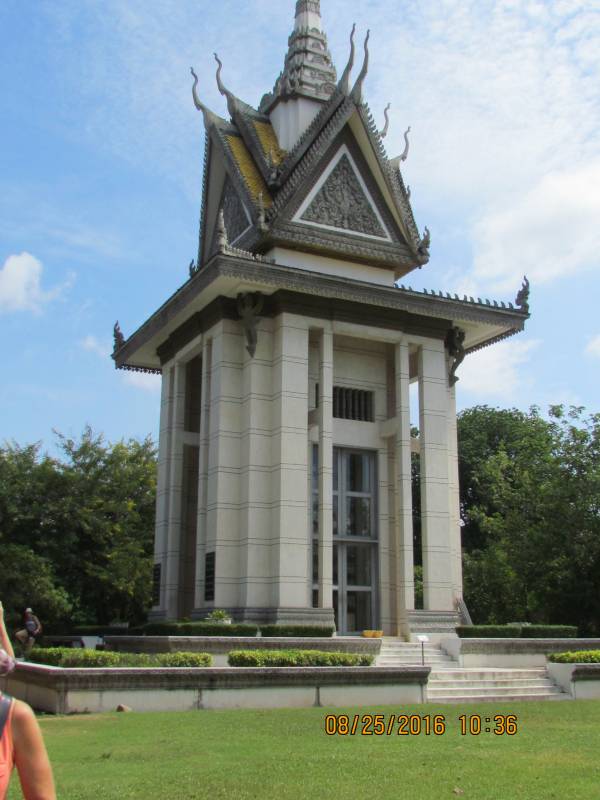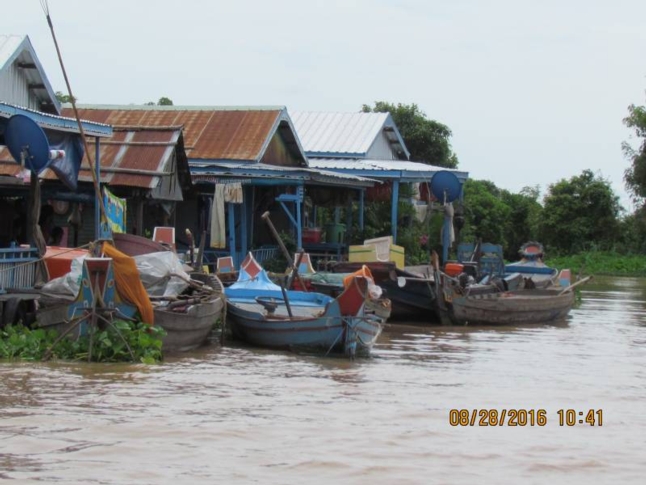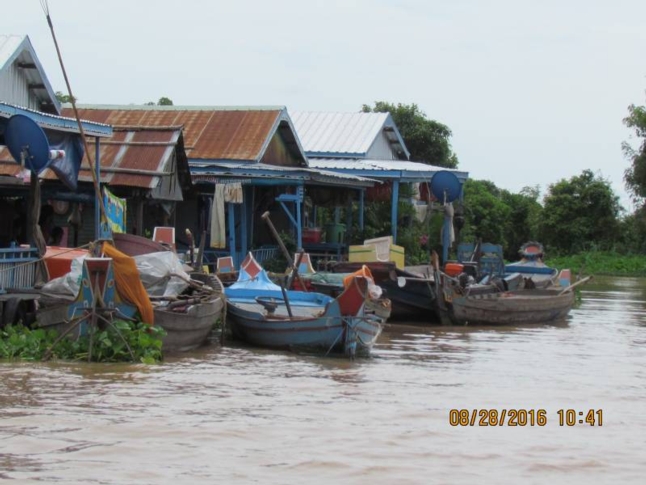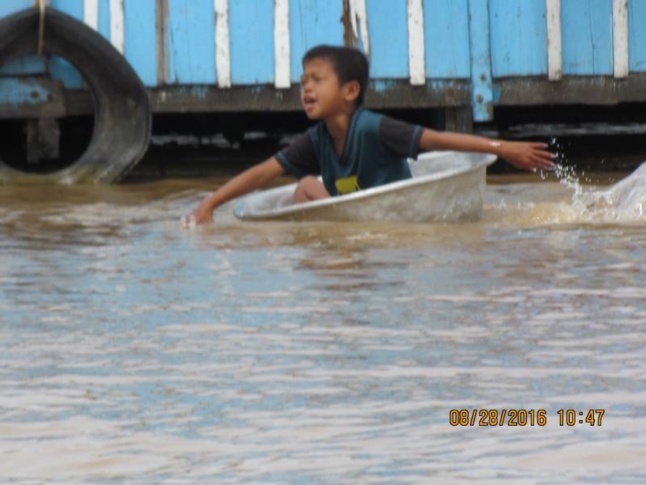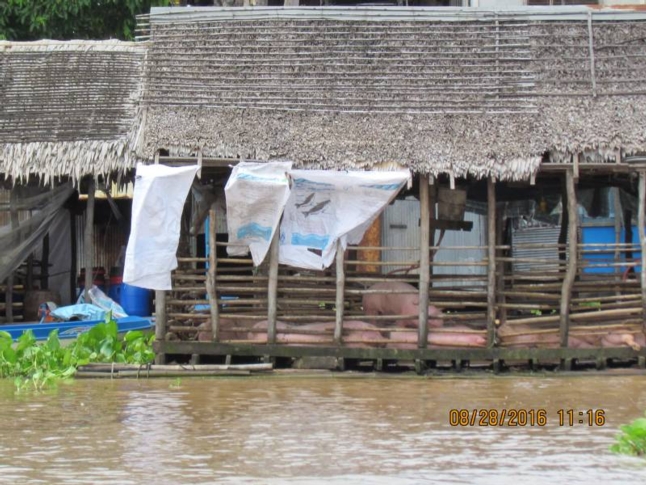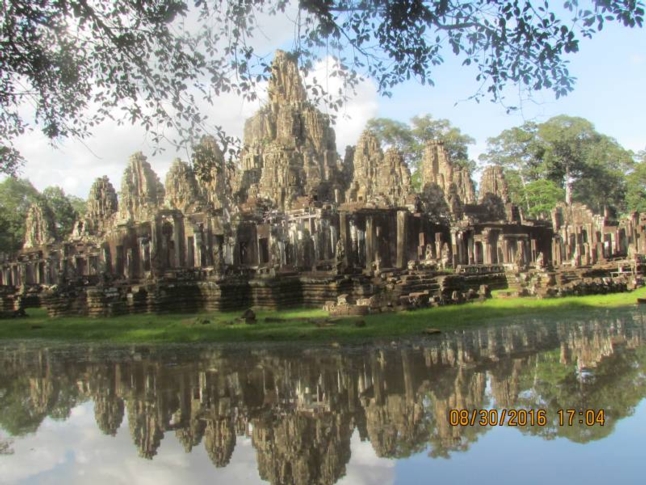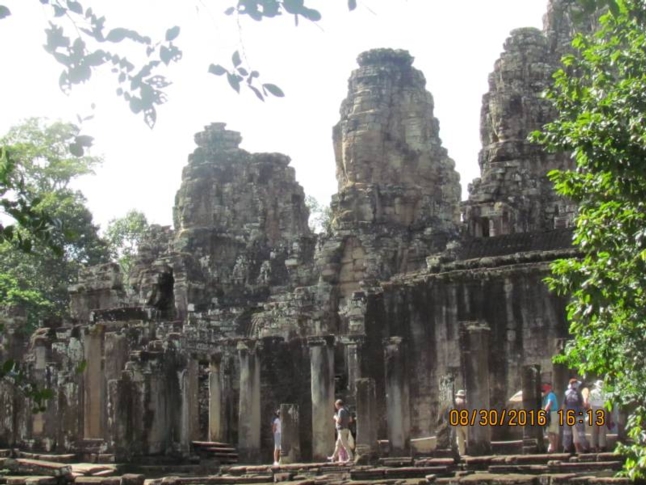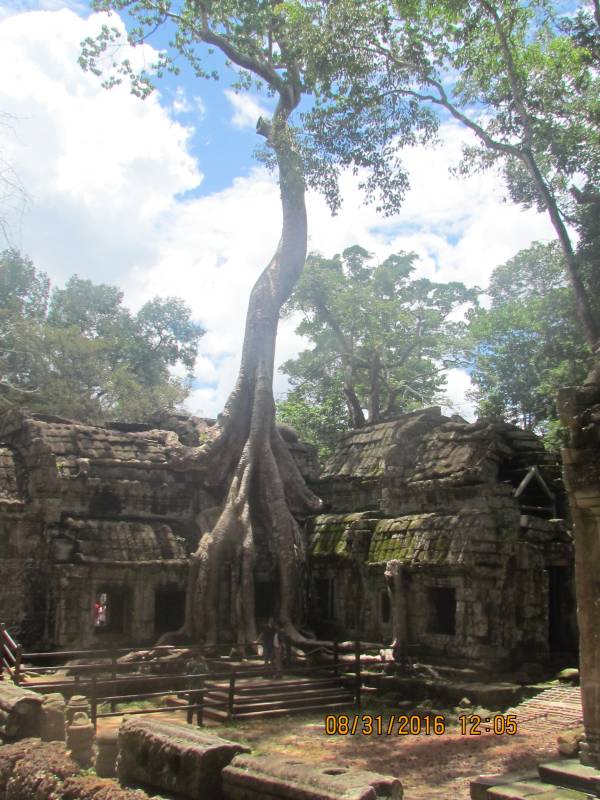 Hope that all of you enjoyed.