Jefferson High School

In May Mary Swinford Farlow (Ockley Green) passed away. Her daughter had a service for her in St. George UT where she had resided in recent years. Many of us that will miss her were unable to attend, so we are having a Celebration of life on September 25, 2019 at
Lucky Labrador Tap Room
1700 N Killingsworth St.,
3:00 PM.

Put it on your calendars & join us in sharing some memories, and some Pizza, and bidding Mary farewell. Looking forward to seeing you.
Claudia Truby Pfenning
The 2019 '61 JEFF HIGH
Golf Outing & Picnic
is in the record book.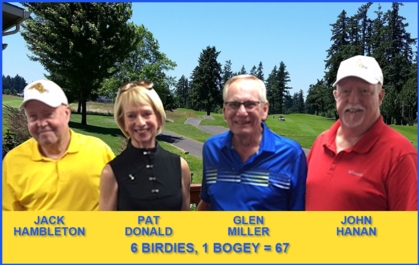 The team of Jack, Pat, Glen & John took the golf honors.
The picnic was well attended and the weather was perfect.

______
Ken Roberts shared this Youtube video with you.
It is a combined edit of a 1940's dance, dancing to an R&R song from OUR era... One of his faves.
Turn up the volume and/or, put on your earphones .. click the link below and enjoy.
https://www.youtube.com/watch?v=8AXkfhqvO44